A wide-ranging production capability
Capacity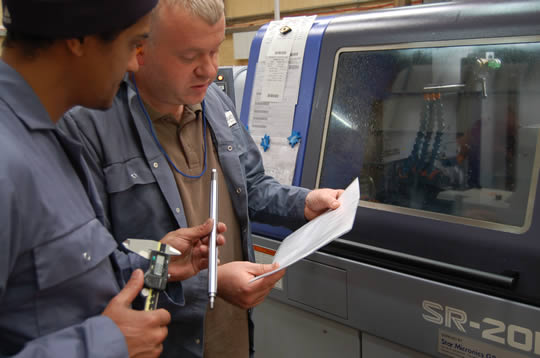 As one of the UK's leading precision machining subcontractors, we have the capacity, skills and expertise to reduce the costs and lead times involved with manufacturing components.
Our wide-ranging production capability and support services have developed from close association with the volume-hungry automotive related and fluid power industries. With a multi-skilled employee base and the willingness to invest in the latest production, support equipment and management techniques (including keeping up to date with the latest software), we are able to reduce lead times and tool-up our production to meet our customers' requirements.
Across the board production
We provide an across-the-board production service covering raw material, heat treatment, grinding, surface finishing and assembly services to allow you to reduce your supplier base and benefit from our 'direct to line' delivery capability, backed by full traceability.
Our machine shop features a clean room for specialist assembly which is free of contamination and fitted with enhanced lighting to ensure the total consistency of any assembly task.
We are happy to provide fast quotes and estimates and also to offer advice about specific requests. For more information or a quote, please contact us by phone or email.
Processes available include:
Multispindle turning
CNC multi-axis turn-milling
CNC sliding head and sliding headstock machining
Wire EDM
Durr programmable cleaning
Non-contact vision inspection
Clean room assembly.
Plant list and support equipment:
Rodmatic Multico Capacity:
39 off Multi-spindle Automatic Lathes
9 off 1″ diameter capacity
22 off 1.3/4″ diameter capacity
6 off 2.1/4″ diameter capacity
2 off 3.1/4″ diameter capacity
Rodmatic Hytek Capacity:
1 off Doosan Daewoo Lynx 220LC 3-axis CNC Lathe
1 off Star SV32 9-axis CNC Sliding Head Auto Lathe
1 off Star ST20R111 7-axis CNC Sliding Head Auto Lathe
1 off Star SR32J 7-axis CNC Sliding Head Auto Lathe
3 off Dugard Eagle 32 5-axis Sliding Headstock CNC Lathe
CAD to CAM with EdgeCAM part modeller and Solid Machinist,
Delcam PartMaker SwissCAM