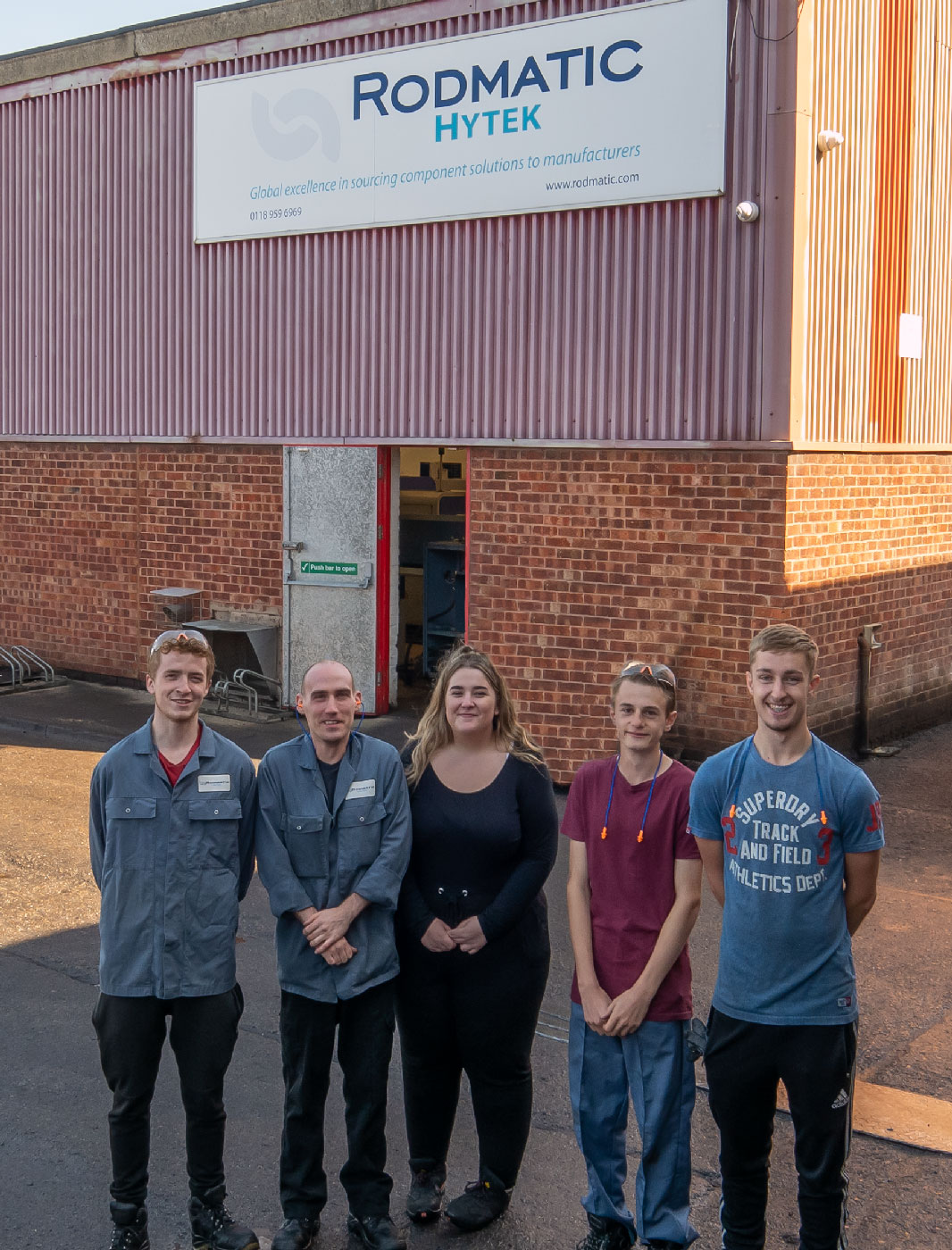 Apprentices are a vital part of the Rodmatic team. We are proud to be able to nurture the engineering skills of the future and to work with Reading College to help make this happen. Meet some of our apprentices below! 
Sonny Church – Maintenance Engineer
Sonny is nearing the end of his apprenticeship with Rodmatic, having completed almost three years at the company. 
"I've always been interested in engineering, even as a child. I saw an apprenticeship as the easiest route for me to become an engineer and chose Rodmatic because it was the company that most grabbed my attention. I've really enjoyed how hands-on the apprenticeship has been. I would say to anyone thinking of doing an apprenticeship to go for it because you have both the practical and the theory which I think gives you the edge over doing a purely academic course. I think it also helps when it comes to looking for jobs because you have the practical experience behind you. It's been nice seeing the team grow with more new apprentices coming in as there were just two us when I started here."
Kieran Docherty – Apprentice Toolmaker
Kieran is halfway through his apprenticeship with just one year to go. 
"I chose to do an apprenticeship because I felt like it was the best way to go after school. I thought I'd give it a shot and I'm glad I did. The apprenticeship at Rodmatic has been really enjoyable. I've definitely preferred the more practical side! I feel that I've been trained well. It's really paid off for me.  I would say to anyone thinking about doing an apprenticeship to go for it."
"I chose to do an apprenticeship because I felt like it was the best way to go after school. I thought I'd give it a shot and I'm glad I did."
Tyler Dodsworth – Apprentice Machine Setter
Tyler is very new to his role, having only started his apprenticeship a few weeks ago.
"I completed my college course last year, which was great, but I wanted more practical experience that would eventually help me get a mechanical or civil engineering job. It's early days but I've found people at Rodmatic friendly and the work has been very interesting so far. I really enjoyed using the CNC machines and learning how to anticipate machining issues before they happen. I feel like this is a great basis for my goal to work in civil engineering in the future and I would definitely advise someone thinking about this as a route in to go for it."
Lucy Vass, Apprentice Quality Engineer
Lucy has nearly completed her apprenticeship after three years at Rodmatic. 
"I originally applied for the role of Apprentice Machine Setter at Rodmatic but when I started the role, I realised that it wasn't for me.  I was able to move over to Quality which has been great. I've definitely improved in many skills areas, such as communication, but I'm still learning new things every day, for example on the inspection side. I've really valued gaining experience like holding Quality meetings by myself with three or four employees each month. I have also completed a company induction file and a training programme.  The people here are really nice. Everyone is friendly and gets along. I really like being part of a team of apprentices because we help and support each other. I'd like to stay on at Rodmatic as a Trainee Quality Engineer."
Joshua Hitchcock – Apprentice Machine Setter
Joshua is almost a year into his apprenticeship. 
"As a kid, I always grew up breaking things and fixing them, so I was interested in the apprenticeship when I saw it advertised. I was doing A Levels at the time and thought about it for a while, then made the decision to do it. While I was pretty nervous on my first day, I soon realised how friendly everyone was. I started gaining new skills almost straight away. It's hands on but you also have think a lot and analyse how to adapt the tools to what you're doing. Being part of a team of apprentices is great too because you have someone to talk with if you're not sure about something. My advice to anyone thinking about an apprenticeship is that if you want to be hands-on and gain new practical skills to go for it. You've got those skills and you're always doing something different so you'll never be bored. There's always something different to do. Another good aspect of my role is that I'm responsible for training and supporting Tyler, one of our new apprentices, which is helping to build on my communication skills." 
Ross Edwards – Apprentice Machine Setter
Ross is Rodmatic's most recent apprenticeship recruit and has only been in the role for a few weeks!
"I choose to do an engineering apprenticeship as I've been interested in the subject ever since studying it at secondary school. I also studied it at college for two years, doing level 2 engineering, and now I'm moving onto my level 3 with the help of Rodmatic. I thought that an apprenticeship was the best way to go because it allows me to learn a trade and get paid for it at the same time. I will also gain a qualification at the end of it which will help me in the future. My advice to anyone thinking about doing an apprenticeship would be that they are worth it because you get a certificate at the end of and you're getting paid for it. My other piece of advice would be to stay focused in college!
I hadn't previously heard of Rodmatic, but I studied their website before the interview and found it very informative and interesting. I'm really enjoying being at the company so far. The people are friendly and helpful. The other apprentices are brilliant and very welcoming. I feel like I fit in already!"
Find out more about our apprenticeship scheme here.